Foster
Rescue is not possible without patient and loving foster homes. Each dog spends a minimum of two weeks in foster care for assessment and vetting before becoming available for adoption. Training and ongoing support is available. CDRO covers veterinary fees and will provide food and supplies, as required.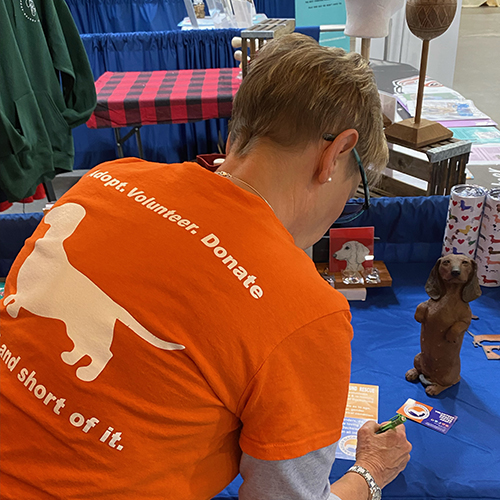 Application Processors
This dedicated group of volunteers guides potential adopters through the adoption process. The Application Processor is responsible for conducting a preliminary telephone interview with applicants and checking references. If the applicant is approved to adopt following the home visit, the Application Processor will work to match the applicant with a suitable dog.
Home Visits
A home visit is a mandatory portion of CDRO's adoption process. We rely on our Home Visit volunteers to assess the safety and suitability of an applicant's home for a rescued dachshund. Volunteers ensure that the applicant's home adheres to CDRO policies and flags any issues for the Application Processor.
Photographers
Professional photographers help us draw attention to the deserving dogs in care who are searching for forever families of their own. After all, a picture is worth a thousand words! This volunteer role is very flexible and by embedding your logo in foster photos you also benefit by marketing your services to CDRO's dedicated supporters.
Do you have special skills you'd like to offer?
Contact us – we'd be happy to discuss how your skills can be incorporated into CDRO! Additional areas of need include graphic design, copywriting, social media content creation, social media analytics and administrative support.
Please note that you must be at least 21 years of age to become a volunteer with CDRO. All prospective volunteers are required to:
complete a volunteer application
sign a confidentiality agreement
sign a volunteer waiver
provide a criminal record check
To request a volunteer application, email us at: info@wienerdogrescue.com